The Ethereum blockchain has seen a two-year single-day high for daily active addresses at nearly 500,000. Generally, network statistics seem to indicate that the decentralized finance (DeFi) market, which has also grown popular in the same time frame, has contributed greatly to network growth.
The Ethereum blockchain is seeing activity levels comparable to months before the 2018 highs. Santiment, a blockchain data platform, shows that the number of daily addresses of Ethereum has hit a two-year single-day high on June 29, with 486,000 addresses interacting on the blockchain.
As Santiment noted, such activity was only present in the months before the boom of late 2018, which saw Ethereum eventually taken to price levels of $1,500.
Data from the platform shows that the incident is not a one-off event, as there has been a steady increase in the number of addresses created. Weiss Crypto Ratings also noted that the Ethereum being withdrawn from exchanges has hit a six-month high.
This data suggests that decentralized Finance (DeFi), which has also seen rapid growth and development since the start of 2020, is playing a key role in the booming activity.
Ethereum Experiencing Growth Amid New Developments
The newly discovered trend is yet another optimistic sign for the Ethereum network, which is expected to release new highly-anticipated features as a part of the ETH 2.0 transition towards the end of 2020.
Grayscale Investments has seen a record influx of investments in Q1 2020 and has stated that institutional investments are healthier than ever, despite the Ethereum Trust lost over half of its value this week. Data analytics platform, Skew, has shown that the size of the Ethereum options market has grown considerably, crossing over $150 million in June.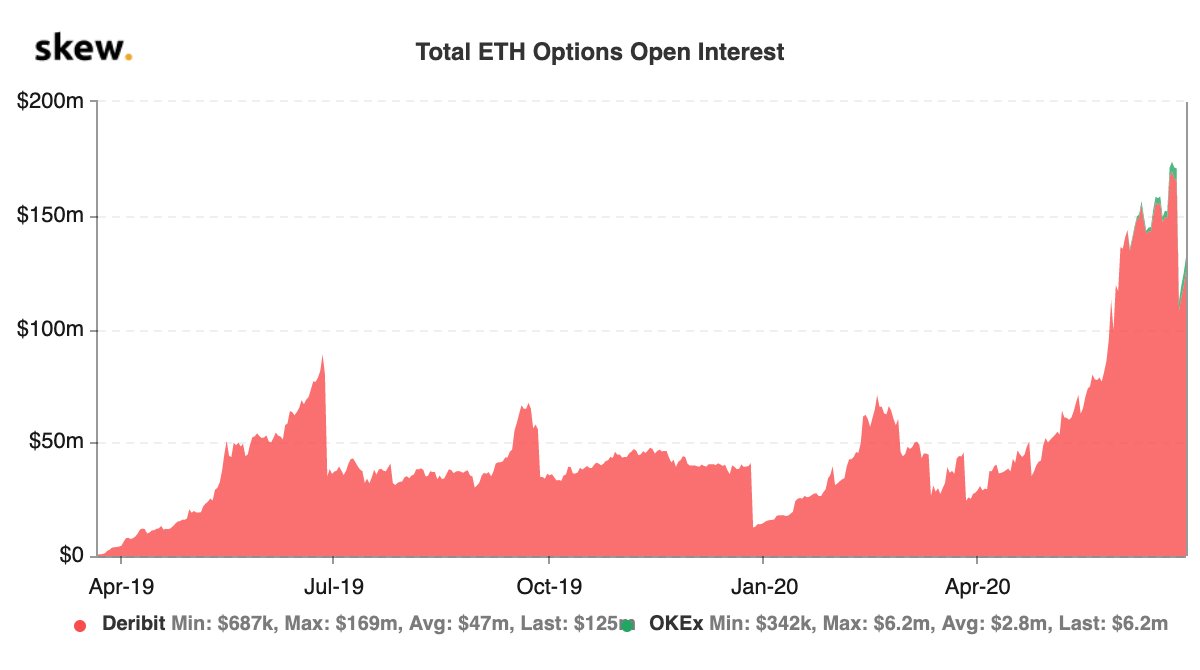 ConsenSys also made the headlines when it announced that it would start staking services ahead of the launch of ETH 2.0. It has picked six partners as members for the pilot program, which include Binance and Crypto.com
Decentralized Finance Becoming a Hotbed of Development
The sudden surge in activity could be linked to the recent growth of the DeFi space, which has seen multiple new launches in recent times, most related to yield farming programs. Synthetic, Balancer, and Ampleforth have all released or plan to release Bitcoin yield farming programs that are essentially liquidity provision incentive features that reward liquidity providers with a portion of network fees.
Besides yield farming initiatives, there are other developments that have contributed greatly to the growth of the DeFi space. Lending platform Compound Finance recently launched a native token, called COMP, which can be used for network governance, among other things. The release of the token boosted COMP to the top of the DeFi rankings, overtaking MakerDAO by a considerable margin.
The DeFi space now has a total market cap of $6.1 billion, with Compound holding $2.1 billion in market cap, followed by Maker with $450 million.
The post Ethereum Daily Active Addresses Hit Two-Year Single-Day High appeared first on BeInCrypto.